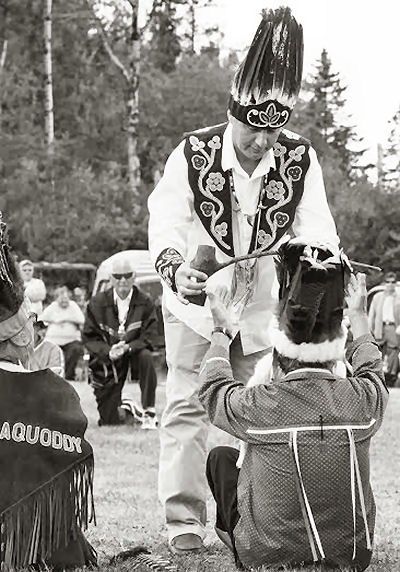 THE PIPE CEREMONY during the 50th Ceremonial Indian Day at Sipayik included the presentation of the pipe from Penobscot Sakom Kirk Francis to Clayton Cleaves, in the role of Passamaquoddy sakom. (Robin Farrin photo)
Subscribe to Quoddy Tides
Rates:$31.65 a year in Washington County, Maine
(tax included)
$36.93 a year in Maine, but outside of Washington
(tax included)
$35.00 a year in Canadian funds
Single copies: $1.25

To read all the news in The Quoddy Tides, subscribe now or pick up the newspaper at your local newsstand.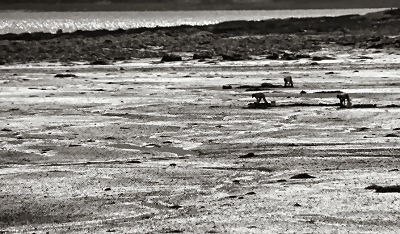 DIGGING CLAMS in Pottery Cove near Joe's Point in St. Andrews. The area was being harvested by diggers hired by a clam depuration plant. (Edward French photo)
Front Page Stories
by JD Rule
Sharp disagreements between the Lubec Select Board and the budget committee set the tone for the annual town meeting held on August 4. It took three and a half hours to approve 48 articles, with 72 registered Lubec voters participating. It took nearly one hour just to approve Article 2, providing for a total of $331,812 for general administrative expenses.
School closure issues debated in Robbinston
by

Lora Whelan
Robbinston voters will decide the fate of their school when they cast their ballots at a referendum vote set for Wednesday, August 19, from 1 p.m. to 7 p.m. at the fire station. At a special public hearing on the proposed closure held on August 6, about 50 people gathered at the school's gymnasium to listen to information presented by Calais School System interim Superintendent Ray Freve on a fact sheet and two budget scenarios.
Indian Day draws large crowd
by

Susan Esposito
The 50th Ceremonial Indian Day celebration drew a large crowd to the dances as well as a record-breaking number of participants in many of the weekend's most popular events. "Wow! It was amazing!" sums up Indian Day Committee member Tina Downing. "It went very, very well. This was my eighth and last year on the committee, and it meant a lot to me that things were so successful."

Law enacted for child sexual abuse education program
by

Edward French
After four years of trying to have a child sexual abuse education program adopted for schools in the state, Rep. Joyce Maker of Calais finally has been successful in getting legislation enacted. LD 1180, An Act To Require Education in Public Preschool Programs and Elementary Schools Regarding Child Sexual Abuse, became law after the Maine Senate and House of Representatives overrode Governor LePage's veto on June 30.

by

Edward French
Work is proceeding full steam ahead on the reconstruction of the Eastport breakwater, which partially collapsed last December. Although some observers have questioned how fast the work is going, Dan Vino, CPM Constructors' field superintendent for the project, states, "There is an incentive to get the job done early. It's not only beneficial to the community but also beneficial to the company." With less overhead expense once the project is completed, Vino notes, "It doesn't pay to lag on the job."
School principal resigns in Calais
by

Lura Jackson
The Calais middle and high schools will soon be under new leadership due to the resignation of Principal Matt Clark, effective August 14. An administrator for the Calais schools for nine years, Clark has opted to take a position as assistant principal at Ellsworth High School. His resignation was tendered to the school committee meeting on August 4.