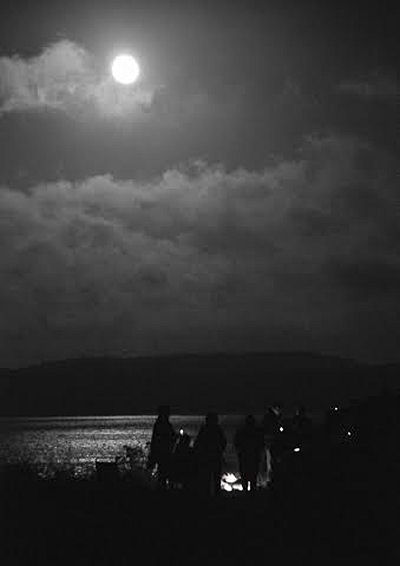 A FULL MOON shines across Western Passage to Split Rock, Sipayik, as Passamaquoddy tribal members participate in a Grandmother Moon Ceremony and a candlelight vigil for survivors of domestic violence that was sponsored by Passamaquoddy Peaceful Relations on October 8. (Edward French photo)
Subscribe to Quoddy Tides
Rates:$31.65 a year in Washington County, Maine
(tax included)
$36.93 a year in Maine, but outside of Washington
(tax included)
$35.00 a year in Canadian funds
Single copies: $1.25

PUBLIC NOTICES LINK

READING to a group of deer while sitting under an Eastport tree is Kathleen Esposito. (Don Dunbar photo)
TOP STORIES
by Lora Whelan
A Lubec Elementary School teacher was arrested and a number of Lubec high school students were frightened on the morning of Wednesday, October 8, after a school bus driver transporting the students to Washington Academy and Machias Memorial High School pulled over to the side of the road at Whiting corner because some of the students engaged in unsafe behavior.
Tissue-making program aims to start careers
by

Lora Whelan
Forty students sat in their chairs, some nervous, some excited, some calm, but all of them there because they had been hand‑picked out of 160 applicants who underwent a series of tests to gain placement in the new St. Croix Tissue training program at Washington County Community College (WCCC). The students gathered on the afternoon of October 2 to attend the official kick‑off of the event, but really what they were waiting for was class to start. And start it did, right after the last speech and explanation of how the program got started.
Sea urchin fishermen haul in good price, fair catches
by

Edward French
Sea urchin fishermen in the Cobscook Bay area have been pleased with the number of urchins and the price they're receiving this year, although some still are chafing about the tote limit that was imposed by the state beginning last year. The early season for draggers opened in Zone 2 on October 1.

Boat School now able to pursue funding
by

Lora Whelan
On August 15 Maine Superior Court Justice Robert Murray ordered the removal of the lis pendens, or "suit pending," status of the Boat School in a lawsuit filed by Eastport residents Phyllis Bradbury and David Gholson against the City of Eastport, First Perry Realty LLC and CPM Constructors. The plaintiffs' lawyer, Kristin Collins, noted in a letter to the court that her clients had "no objection to the removal of the Friends of the Boat School (Friends) as a party‑in‑interest."
AOS superintendent to retire next May
by

Edward French
At the September 30 meeting of the AOS 77 school board, Superintendent James Underwood announced his plans to retire next May. The board accepted his resignation with regret.