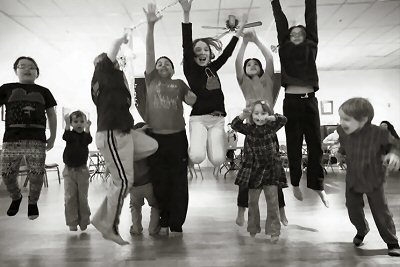 JUMPING EARLY INTO SPRING! Learning about rhythm in music through body movement during the Paper Orchestra camp at the Eastport Arts Center are some of the participants. (Robin Farrin photo)
Subscribe to Quoddy Tides
Rates: $30 per year within Washington County
$35 per year outside Washington County
Canadian customers: $35 per year in Canadian funds. Single copies: $1.25

PUBLIC NOTICES
.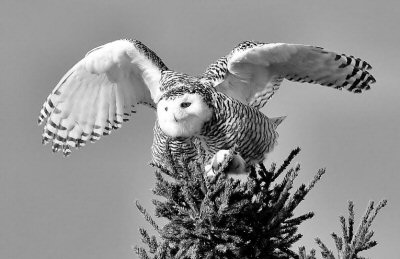 GETTING READY to take flight off the top of a Pembroke tree is a snowy owl. Large numbers of the snowy owls, which are native to the Arctic, have traveled south this winter in search of food, since there are not enough lemmings in the Arctic tundra to feed a recent surge in the owl population. (Don Dunbar photo)
TOP STORIES
by Lora Whelan
Unorganized territory (UT) residents in Maine have set their sights on legislators' positions on a bill coming up for a vote that if passed would restore their right to public hearings through a rezoning process for large‑scale wind energy developments. A group of concerned residents joined together in Edmunds on February 23 for a third meeting to discuss LD 616, An Act to Amend the Expedited Permitting Area for Wind Energy Development under the Jurisdiction of the Land Use Planning Commission (LUPC). Currently Atlantic Wind, a wholly owned subsidiary of Iberdrola Renewables, has entered into 24 property lease or easement agreements in Cutler, Jonesboro, Trescott and Whiting. Iberdrola Renewables has stated its opposition to LD 616, as has the Maine Renewable Energy Association.
Closure of Bucks Harbor prison proposed again in state report
by

Lora Whelan
A feasibility study issued by the Maine Department of Corrections (MDOC) proposes to close the Downeast Correctional Facility in Machiasport as one of a number of consolidation measures. The proposal is the fourth time that state officials have looked at closing the state prison.
State, tribal elver deal unravels
by

Edward French
The tentative agreement that had been reached between the state and the Passamaquoddy Tribe for the upcoming elver fishery fell apart during a work session of the legislature's Marine Resources Committee on February 19. During the session, the committee voted 9-1 to recommend a bill that would require that all fishermen, including tribal fishermen, be limited to individual catch quotas, a restriction that the tribe has opposed while preferring other management measures.
Snowboard athlete at Sochi cheered by relatives in Perry
by

Susan Esposito
Among the skilled athletes who worked hard and accomplished their dream of competing in the 2014 Winter Olympics in Sochi, Russia, was a young woman with ties to Perry, Maine. Faye Gulini of Colorado, who finished fourth in the Ladies' Snowboard Cross final on February 16, is the niece of Ann Skriletz, who has been following her athletic accomplishments since Gulini began competing in 2007.
Charlotte resident lives to tell icy tale
George Cross of Charlotte knows that he is a very fortunate man. Late on January 31 he had gone to spend some time with his buddy Everett Mathews Jr. of Cherryfield at Mathews' camp at Round Pond in Steuben. After they arrived, they decided to take a ride on a Polaris Ranger side-by-side recreation vehicle on the pond before retiring for the night. Mathews was the driver, and Cross was the passenger. Before they knew it, they had traveled into open water and were in trouble. The Ranger sank, and they knew they had to act fast or there would be no getting out. Both men tried to kick the doors open but were not having any luck. Finally, Cross kicked the door open and out he went. Mathews, realizing that Cross was out, exited the same opening.