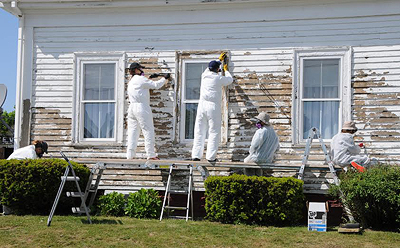 GETTING READY FOR A NEW COAT OF PAINT this summer is this Eastport house, which is being scraped by volunteers from the Assist-JC group of All Souls Congregational Church in Bangor. (Edward French photo
Subscribe to Quoddy Tides
Rates:$35 a year in Washington County, Maine
(tax included)
$42 a year in Maine, but outside of Washington
(tax included)
$42 a year in Canadian funds
Single copies: $1.50

To read all the news in The Quoddy Tides, subscribe now or pick up the newspaper at your local newsstand.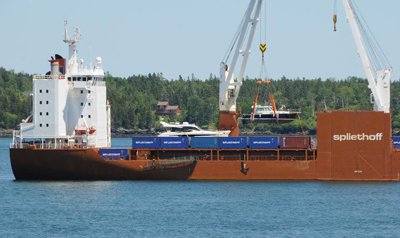 BIG AND LITTLE SHIPS. The Stadiongracht anchored off Eastport on June 17 and 18 to unload a 42-foot yacht that was shipped from Antwerp, Belgium. The yacht, which had been built in Maine before going across the Atlantic, was destined for Newburyport, Mass. It was one of three yachts aboard the freighter. The freighter also unloaded a new 26-meter-long feed barge that was built by Stal Complex in Gdynia, Poland, for Cooke Aquaculture. The barge will be taken to Cooke's fish farm at Black Island, south of Mount Desert Island. The Polish company has constructed five feed barges for Cooke. (Edward French photo

Front Page Stories
EPA proposal would hit mill, St. Croix River towns
by Edward French
New water quality standards proposed by the federal government for the St. Croix River could cost the Woodland Pulp mill millions of dollars and also could affect a number of communities, including Baileyville and Calais, that discharge wastewater into the river.
Volunteers help to spruce up community
by

Susan Esposito
What has become a highly anticipated biennial visit from the youth and adults in the All Souls Congregational Church's Assist-JC group from Bangor is once again in full swing, as participants help Eastport area residents and organizations make their buildings safer.
Visitors take time to lend a hand
by

Lora Whelan
There must be something in the Moose Island air, or maybe it's just that the island city seems to bring out the best in people. While residents and long‑time visitors find this obvious, it may come as a surprise that a group of men with much shorter connections to Eastport have been jumping in to volunteer their time and energy in between their busy work schedules.
Petition seeks two-year terms for tribal chief and vice chief
by

Edward French
The ongoing turmoil in the tribal government at Sipayik is continuing, with the four tribal councillors who had suspended Chief Fred Moore from his administrative duties now also acting to suspend the administrative authority of Vice Chief Vera Francis. The four councillors -- Madonna Soctomah, John Dana, Marla Dana and Philip Farrell Jr. -- recently issued a directive to all of the program directors in the tribal government that Chief Moore and Vice Chief Francis are no longer their supervisors and do not have any administrative authority. Instead, Tribal Manager Ken Poynter is the supervisor, according to their letter.
Marathon runners ready, set to kick off
by

JD Rule
The fourth Bay of Fundy International Marathon will be run on Sunday, June 26, with the largest field of runners in the event's history. Planning for this year's competition began shortly after the conclusion of the 2015 event, and 800 runners are expected for the day.
First wild salmon conservation site off Grand Manan
New Brunswick's first designated wild salmon conservation marine site, located off Grand Manan, was announced on June 21 in St. Andrews, where provincial, territorial and federal fisheries and aquaculture ministers met this past week. The marine site is part of a collaborative research project involving the Department of Agriculture, Aquaculture and Fisheries, federal partners, First Nations, industry and scientists to help the wild salmon population rebound in the Bay of Fundy.