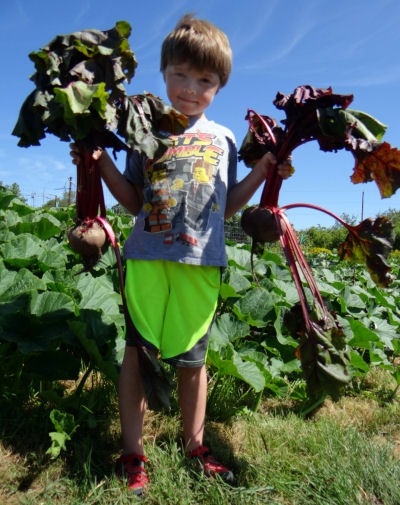 EAT LOCAL! Jack Caricofe, 7, of Lubec discovers the joy of his neighbor's beets. (Chessie Crowe Gartmayer photo)
Subscribe to Quoddy Tides
Rates:$35 a year in Washington County, Maine
(tax included)
$42 a year in Maine, but outside of Washington
(tax included)
$42 a year in Canadian funds
Single copies: $1.50

To read all the news in The Quoddy Tides, subscribe now or pick up the newspaper at your local newsstand.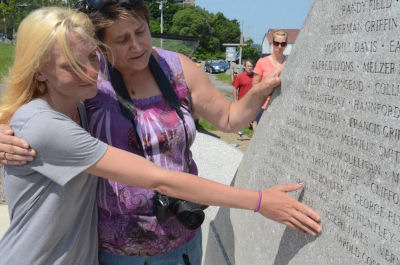 COMFORTING Jessica Jones is Lost Fishermen's Memorial Association President Shelly Tinker after the unveiling of the newly installed memorial in Lubec. Jones' brother Joseph was the captain of the Bottom Basher, lost in 2009 with all hands, and it was the first time she had seen his name on the stone. (JD Rule photo)

Front Page Stories
Updated flood maps may hit shoreland owners
by Lora Whelan
Shoreland property owners in Washington County are urged by municipal leaders to check in with their local code enforcement officers to review the status of their properties against new Federal Emergency Management Agency (FEMA) flood maps. If there are changes to a property's status within the flood zone it could mean the need for flood insurance and the application of different building codes. FEMA requires a preliminary map review period that will allow for a 90‑day comment and appeal period that will be going into effect soon, and municipalities want property owners to be prepared if they need to be.
DHHS decision to close Calais office prompts outcry
by Edward French
The decision by the Maine Department of Health and Human Services (DHHS) to close its office in Calais on November 1 has prompted an outcry from both the employees and area residents, who cite the difficulties that will be faced by both staff and clients in traveling to the regional office in Machias and the obstacles that are posed by DHHS online or phone services, particularly for the elderly population in the area. They also question why the state agency has not tried to find another solution in its cost-saving move.
by

RJ Heller
Mention the Jaffa colony to almost anyone in Maine, and the questioning expressions are quickly revealed on their faces. But with numerous talks being given by Reed and Jean Holmes throughout the area and this year being the 150th anniversary of the journey, that is all about to change.
Islanders get down and dirty for mud run
by

Arlene Benham
When Grand Mananer Susan Benson posted a tentative inquiry on an island Facebook page in April, she had no idea what kind of response she would get. The query as to whether anyone would be interested in doing a mud run if one was organized generated surprising enthusiasm, and on Friday, July 29, the inaugural Rotary Mud Run was held, drawing 130 participants, including some from the mainland, and quite a few spectators.
Lubec fishermen's monument a tribute to loved ones lost at sea
by

JD Rule
For a one‑word description of Shelly Tinker, try "tenacious." The president of Lubec's Lost Fishermen's Memorial Association (LFMA) and wife of a fisherman started nearly seven years ago and refused to give up despite many setbacks. She soon will host the public dedication ceremony of the memorial, set for Sunday, August 21, at 1 p.m. at the north end of Water Street. The public is invited to participate.
Tribe interested in former Superfund site in Meddybemps
by

Karen Holmes
At a July 30 meeting at the Meddybemps Community Hall individuals and organizations were able to express their ideas and concerns about the State of Maine's plan to transfer ownership of the Eastern Surplus Superfund site in Meddybemps. A periodic review of a Superfund site is also required by law. Terry Connelly and Karen Lumino of the U.S.