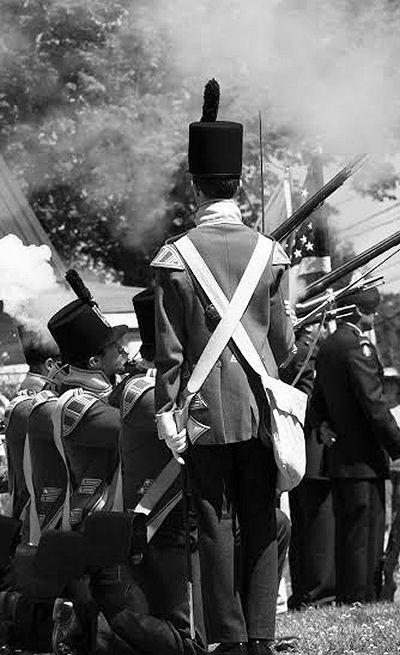 THE BRITISH ARE HERE! Soldiers from the Halifax Citadel, wearing the uniforms of the 104th Regiment of Foot, fire their muskets as part of the commemoration of the 200th anniversary of the capture of Moose Island by the British in 1814. The event was held on July 11 and 12 in Eastport. (Robin Farrin photo)
Subscribe to Quoddy Tides
Rates:$31.65 a year in Washington County, Maine
(tax included)
$36.93 a year in Maine, but outside of Washington
(tax included)
$35.00 a year in Canadian funds
Single copies: $1.25

PUBLIC NOTICES LINK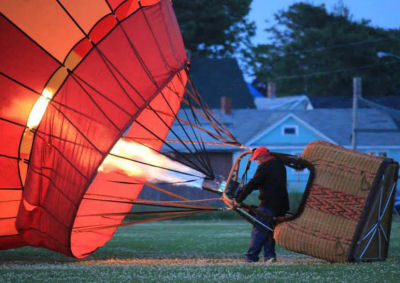 A HOT-AIR BALLOON is readied for take-off by Sunkiss Ballooning owner Todd Monahan during the Lubec Balloon Fest on July 18-20. The tethered balloon rides were sponsored by the Lubec Lions Club to raise money for an optical camera for free vision screening for early detection to Washington County school children. (Tammy Fairchild photo)
TOP STORIES
by Lora Whelan
Robbinston School Committee Chair Tom Critchley is not confident that the local grade school could be kept open this coming year if voters approve the school budget at the Monday, July 28, budget validation vote. School budget numbers were changed by residents when they voted on 15 articles at the July 21 special town meeting.
Nursing home closure felt by community
by

JD Rule
The closure of Lubec's Oceanview Nursing Home at the end of August, which was recently announced, will leave a void in the community, say many local residents. One former employee, who declined an interview, called it a "travesty." The effect will be felt by those directly served and their families, by employees who now face a job search and near‑certain relocation and by the town and other businesses. The acknowledgment that financial losses will go beyond the million‑plus annual payroll is a frequently heard comment.

Backyard beekeepers buzz up a swarm of pollination, honey
by

Lora Whelan
While the commercial beekeepers have been bringing in a record number of hives to pollinate the blueberry barrens in Washington County, backyard beekeepers have been buzzing up their own storm. Tony Jadczak, the state apiarist, says there are 860 registered hobby beekeepers with 9,700 hives in the state, but he estimates there are probably more like 1,200 beekeepers and a much higher number of hives since it's likely that not everyone knows that they are required to register their hives with the state.
Report finds state unilaterally restricts tribe's fishing rights
by

Edward French
The Maine Legislature has unilaterally acted to restrict the saltwater fishing rights of Passamaquoddy tribal members by circumventing the required amendment process under the Maine Indian Claims Settlement Act, according to a recently issued report from the Maine Indian Tribal‑State Commission (MITSC). The MITSC report found that the legislature did not receive the consent of the tribe when it approved fishery legislation on three separate occasions -- in 1998, when the first tribal saltwater fishing bill was enacted, and in 2013 and 2014, when tribal elver fishing bills were passed.
Death of teenager mourned on island
by

Arlene Benham
One Grand Manan teenager was killed and four others were injured when their minivan left the Whistle Road and crashed on July 13. The accident happened around 9:30 p.m. Danielle Park, 17, was a passenger in the van and died at the scene. Two girls and two boys aged 14 to 17 were injured. All have since been released from hospital.