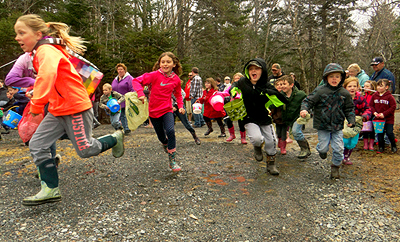 AND THEY'RE OFF -- FINALLY! Youngsters run to collect over 5,000 eggs at Herring Cove Provincial Park during the annual Community Easter Egg Hunt on Campobello. The egg hunt was postponed until April 25 because of the large amount of snow that was still on the ground earlier in the month. The Campobello Canada Day Committee sponsored the event. (Chessie Crowe Gartmayer photo)
Subscribe to Quoddy Tides
Rates:$31.65 a year in Washington County, Maine
(tax included)
$36.93 a year in Maine, but outside of Washington
(tax included)
$35.00 a year in Canadian funds
Single copies: $1.25

To read all the news in The Quoddy Tides, subscribe now or pick up the newspaper at your local newsstand.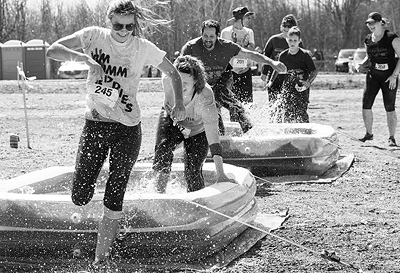 FEATURING 5K and 1-mile courses, the second annual A La Mud Obstacle Challenge was held in Whitneyville on May 3. The event, organized by Washington County: One Community, raised $3,300 to benefit WC:OC's Downeast Teen Leadership Camp and One Voice youth groups. (Robin Farrin photo)
Front Page Stories
by Edward French
The dispute between state and Passamaquoddy tribal officials over the elver fishery appears again headed for a collision course. After hearing that the tribe planned to use its sustenance fishing rights to catch elvers outside of the state's reporting requirements and catch limits and to export the elvers out of the country, Marine Resources Commissioner Patrick Keliher acted on May 6 to ban the use of fyke nets outside of the state's management plan for the fishery. Passamaquoddy Chief Fred Moore of Pleasant Point, though, says the tribe is not planning at this time to export elvers and that the state is trying to cause a confrontation with the tribe.
Governor outlines tax reform proposal but details are lacking
by

Lora Whelan
Governor Paul LePage visited Machias the evening of April 29 to hold a "town meeting" to discuss his budget plan. While short on details, the summary presented in a 21‑page handout had rosy examples of how his "tax reform and relief plan" would pan out for different taxpayer scenarios. In one example, a single 65‑year‑old with an adjusted gross income of $20,500 would pay $283 less than current law due to changes in income, sales and property taxes. In another example, a four‑person family taking standard deductions and with an adjusted gross income of $86,000 would pay $396 less.
Mystery of White Birdís flight still unsolved
by

Karen Holmes
Eighty-eight years ago, on the afternoon of May 9, 1927, Cooper resident Harold Vining was surprised when he heard a loud engine overhead and just glimpsed an airplane before it vanished in a dense fog. The engine could be heard for only a while as the plane headed inland to the west and away from him. He thought seeing a plane was very unusual. Days later he realized he might have been one of the last witnesses to see L'Oiseau Blanc, the White Bird, a French white biplane that was attempting the first transatlantic crossing 12 days before Charles Lindbergh's famous flight. Lindbergh had almost abandoned his flight aboard the Spirit of St. Louis when news reached the United States about the White Bird's flight. The White Bird, though, never reached its destination, and Lindbergh resumed his plan, landing in Paris on May 21, 1927, at the same airfield L'Oiseau Blanc had departed from on May 8.
Deer Island-Eastport ferry will not be running this year
by

Edward French
The Deer Island-Eastport ferry will not be operating this year but will resume its regular run next year. East Coast Ferries Ltd. of Deer Island, which operates both the Eastport and Campobello ferries, has accepted a contract from the provincial government to provide ferry service on the Saint John River this year and will use the Fundy Trail, which has been on the Eastport run.
WCCC culinary student chosen to cook at Cannes
by

Lura Jackson
A culinary student at Washington County Community College (WCCC) is about to have a world‑class experience, and the campus is abuzz with excitement at the opportunity. Ellis Dan Johnson has been selected to travel to France to cater to the American pavilion during the Cannes International Film Festival. The affair will have him rubbing elbows with students and chefs from the finest culinary schools in the world, including the American Culinary Institute, the Kiev International Culinary Academy and students from Japan and China.