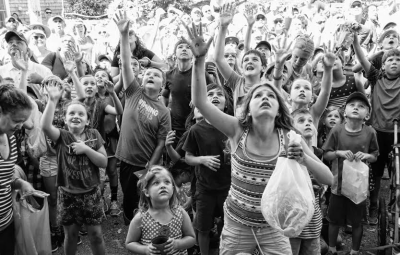 THE PENNY SCRAMBLE during the Eastport Fourth of July celebration always generates youthful excitement. Although a Navy ship was not in port and the breakwater is being repaired, the celebration still drew crowds.(Edward French photo)
Subscribe to Quoddy Tides
Rates:$35 a year in Washington County, Maine
(tax included)
$42 a year in Maine, but outside of Washington
(tax included)
$42 a year in Canadian funds
Single copies: $1.50

To read all the news in The Quoddy Tides, subscribe now or pick up the newspaper at your local newsstand.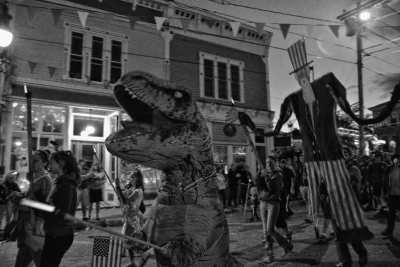 CREATURES from dinosaurs to Uncle Sam made their way through downtown during the Torchlight Parade during the Eastport Fourth of July celebration. (Don Dunbar photo)

Front Page Stories
WWI veterans from tribe to be recognized
by Lora Whelan
The Passamaquoddy Tribe sent 25 men to fight in World War I, some of whom served in the Yankee Division Company I, says Tribal Historic Preservation Officer Donald Soctomah. However, because the Passamaquoddy were not considered United States citizens until 1924, the Company I veterans who were wounded or died in action never received recognition for their service. On Sunday, July 17, that will change.
by
the Quoddy Tides staff
Organizers of the 2016 Eastport Old Home Week and Fourth of July celebration were pleased with the turnout and already are looking forward to making next year's celebration even better.
Campobello Island Club under scrutiny by council
by

JD Rule
"We believe the only purpose of the Campobello Island Club is to attempt to get people to pay these dues," said Stephen Smart, mayor of the island community of Campobello, at the regularly scheduled council meeting held on June 27. He was responding to a local resident who questioned an "$1,800 bill for back dated fees." Stating that they had purchased the property three or four years earlier and that the fees in question were from "2006 or 2007," the council was asked for an explanation.
Options eyed for St. Annís Church
by

Lora Whelan
The brick church that has served the Passamaquoddy Tribe at Pleasant Point for almost a century is under review by the Roman Catholic Diocese of Portland with two proposals on the table, one for demolition and building new or one for partial demolition and renovation. A meeting held at Sipayik on June 23 drew about 40 people, including members of the St. Kateri Tekakwitha Parish Pastoral and Finance Councils as well parish and tribal members.