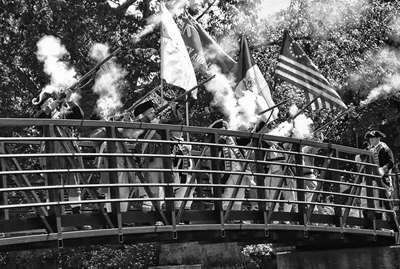 A MUSKET VOLLEY is fired from the foot bridge above Bad Little Falls in Machias to open the Margaretta Days Festival on June 13. The festival this year marked the 240th anniversary of the first naval battle of the American Revolution. Patriotic celebrations will continue with Downeast
4th of July
celebrations, commemorating the adoption of the Declaration of Independence. While the U.S. marks its birth on
July 4
, Canada will be observing its birthday on
July 1
, with celebrations in the Quoddy area. (RJ Heller photo)
Subscribe to Quoddy Tides
Rates:$31.65 a year in Washington County, Maine
(tax included)
$36.93 a year in Maine, but outside of Washington
(tax included)
$35.00 a year in Canadian funds
Single copies: $1.25

To read all the news in The Quoddy Tides, subscribe now or pick up the newspaper at your local newsstand.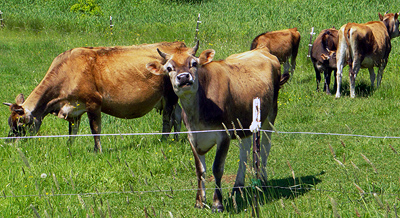 OUTSTANDING in her field, a Jersey cow with an attitude enjoys a day in June when heaven and earth are in perfect tune. (Chessie Crowe Gartmayer photo)
Front Page Stories
by Lora Whelan
At a non-binding referendum on June 15, Robbinston voters showed -- by a vote of 110 to 80 -- that they would support closure of the Robbinston Grade School and the tuitioning of all students to Calais. School committee chair Joe Footer says that, on the advice of AOS 77 Superintendent Kenneth Johnson, the committee will take some time to research what will happen next. "He advised me to take more time to give this some more thought," Footer explains about the decision to keep the school system as is, close it or enact some other scenario..
TRC report asserts cultural genocide practiced in Maine
by

Edward French
Truth and reconciliation commissions in Maine and Canada released their findings and recommendations this month concerning the abuse of Native children in either the state's child welfare system or the Indian Residential Schools in Canada.
New access route and port expansion debated
by

Edward French
The Eastport Port Authority board voted 4-1 to formally endorse the concept plan for a new access route to Eastport at its June 15 meeting. The motion noted that the board believes that the plan "coincides with the long-term cultural, environmental and economic interests of the Port of Eastport, City of Eastport, the Passamaquoddy Tribe, the Town of Perry and the State of Maine as a whole." The port authority's executive director, Chris Gardner, was authorized to work on behalf of the board to further the plan's development, keeping the board aware of any decisions that require further board approval.

Lubec voters opt to retain school wing
by

JD Rule
In a lopsided referendum, Lubec voters have rejected plans to demolish the shuttered high school wing of the Lubec Consolidated School. By a paper vote of 131 to 4, the article that asked whether citizens wished to raise and allocate $176,585 for demolition costs was turned down. The article was part of the annual school budget referendum, held June 23, with 176 registered voters present despite inclement weather. All other articles passed by unanimous voice vote, approving the MSAD 19 2015‑2016 budget of $2,088,478. This amount, without inclusion of the demolition cost, is a 1.3% reduction from the 2014‑2015 budget and does not involve withdrawal of unallocated funds.
Cancer survivor graduates at GMCS
byAbigal Ross
Dalton Brown is a kind, helpful, funny young man who just graduated from the Grand Manan Community School (GMCS) on June 17. He is also a cancer survivor.