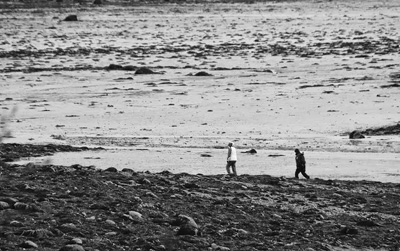 SEARCHING the beaches around Half Moon Cove for Majik Francis were many volunteers, who had been looking since he was lost in the waters on Sunday, November 22. His body was finally recovered at about
5:15 p.m.
on Wednesday, November 25, about 50 feet off the western tip of Carlow Island by a volunteer diver from the Passamaquoddy Tribe. (Edward French photo)
Subscribe to Quoddy Tides
Rates:$31.65 a year in Washington County, Maine
(tax included)
$36.93 a year in Maine, but outside of Washington
(tax included)
$35.00 a year in Canadian funds
Single copies: $1.25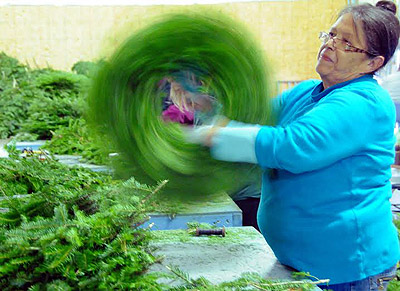 THE WREATH-MAKING SEASON brings work for many in Downeast Maine. Twirling a wreath to make sure all of the tips are firmly in place is Annette Newell at the Quoddy Village shop run by Mingo's Evergreen Products. (Edward French photo)
FRONT PAGE STORIES
by Susan Esposito and Edward French
A sacred fire has been burning and tribal has sounded since Sunday afternoon, November 22, on the Perry side of the Old Eastport Road, as the search for the body of a missing 23-year-old Pleasant Point man has been unceasing. Up to 50 people at a time have combed the shoreline since Majik Francis disappeared into the waters of Half Moon Cove, and one of those searchers, Perry Fire Chief Paula Frost, says she and many others will continue to search the area so that "we can bring some closure to the family.
Lack of justice in killing hurts 50 years later
by

Edward French
The 50th anniversary of the brutal killing of a Passamaquoddy man and the violent assault on another was marked in a somber ceremony of remembrance on November 14 at Sipayik. While the observance served to remember both Peter Francis and Christy Altvater, family members and friends also sought to raise awareness about the injustices suffered by not only the families -- as none of those who committed the crimes was ever convicted -- but by many tribal members who have endured a long history of failure by the state's criminal justice system.
New Brunswick fishermen see high catches, price for lobsters
by

Edward French
At the break of day on November 10, Grand Manan lobster fisherman Laurence Cook joined fishermen throughout the Fundy Isles to leave port and set his 375 traps. After returning to take on bait, he went back to haul at 6 p.m. The first trap, which had been on the bottom for only nine hours, had 33 lobsters that were keepers. "That kind of catch in that short of time is incredible," he points out.
Wreath-making rings in holidays
by

Marie Jones Holmes
Wreath-making is under way in several Downeast locations, a sure sign that the holidays are beginning. The wreath‑making season runs from November first until about December 15.
Mooring freezes enacted to prevent boat overcrowding
by

Edward French
The loss of berthing for boats at the Eastport breakwater and an expected influx of scallop draggers have prompted communities around Cobscook Bay to freeze the number of boat moorings, as the mooring fields were becoming overcrowded. This year, the scallop season in western Maine will begin two weeks later than the eastern Maine season, so town officials and fishermen are bracing for more draggers than usual to head Downeast.