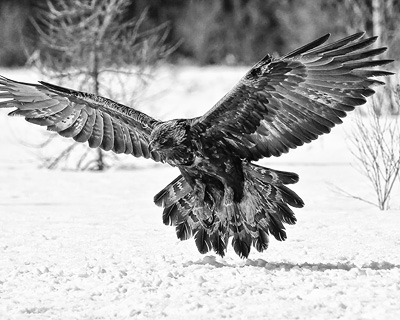 GETTING READY to land in a field in Pembroke is a golden eagle, a bird that is rarely seen in Maine. An expert on the West Coast determined that it is between four and five years old. (Don Dunbar photo)
Subscribe to Quoddy Tides
Rates:$31.65 a year in Washington County, Maine
(tax included)
$36.93 a year in Maine, but outside of Washington
(tax included)
$35.00 a year in Canadian funds
Single copies: $1.25

To read all the news in The Quoddy Tides, subscribe now or pick up the newspaper at your local newsstand.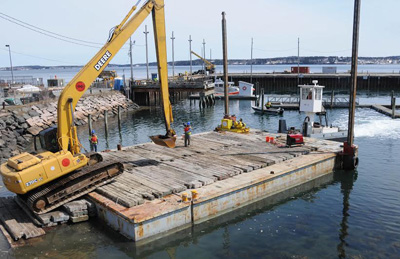 LOADING AN EXCAVATOR on a barge to dig out the fill in the Eastport breakwater, a portion of which collapsed in December, is a crew from contractor CPM Constructors. Work on the $14.95 million rebuilding project is now proceeding and is expected to take up to two years. The breakwater is now closed to boats, except that boat owners may still use the boat ramp at the entrance to the breakwater. (Edward French photo)
Front Page Stories
by Edward French
The Atlantic Salmon Federation (ASF) is questioning why both the Canadian government and the New Brunswick provincial government are not being more transparent about the presence of deadly diseases and the escape of farmed Atlantic salmon within the aquaculture industry, but the industry points out that both the escape of salmon from a Grand Manan fish farm in January and the detection of infectious salmon anemia (ISA) at a farm in February have been reported as required. However, information about the names and locations of the farms with ISA and about the escape of fish is not being released to the public. When there is a disease outbreak or escape of fish in Maine, though, such information is released.
Alexander adopts local food and self-governance ordinance
by

Karen Holmes
Alexander is now the first town in Washington County where residents have accepted a local food and community self‑governance ordinance. Voters at the March 30 annual town meeting supported the intent of the ordinance, which is to protect the health and integrity of the local food system in Alexander. Twelve other towns in Maine have already passed what is also called a local food sovereignty ordinance. One of them, Sedgwick, is regarded as the first town in the United States to have done so.
Sheriff's department to target meth in county
by

Lora Whelan
Methamphetamine (meth) use in Washington County is still at a low number compared to other substances abused; however, meth addiction is noted for its high relapse rate, devastating physical and neurological effects and its toxic and dangerous manufacturing process. To assist county sheriff departments in the comprehensive identification and arrest of those involved in meth lab production, the Maine Drug Enforcement Agency (MDEA) has been awarded a two‑year grant to help combat the rise in meth use and production.
Island cat steps out for mainland jaunt
by

Arlene Benham
Anyone who has had a beloved pet go astray knows the despairing fear that their furry family member is gone forever, and for too many this is the outcome. But a Grand Manan cat has beaten the odds on a nine‑day mainland excursion, which has made him a bit of a local celebrity, thanks in part to his own survival skills and mostly to the efforts of a bunch of strangers who care about animals.
Mt. Everest climber inspires students to reach for heights
by

Eileen Clark
Charlotte Elementary School (CES) students were fortunate to have mountaineer, author, photographer and visiting lecturer Ed Webster come to the school on March 30 and 31. One doesn't often have the opportunity to meet a person who has climbed on Mt. Everest not once but three times -- in 1985, 1986 and 1988 -- and to learn about mountain climbing.