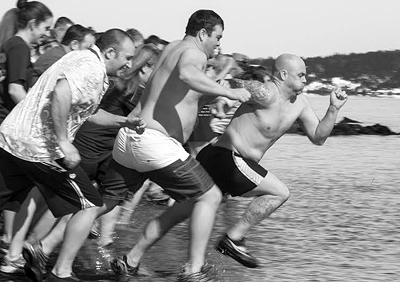 PLUNGING into the frigid water for the Polar Bear Dip on March 6 at Pleasant Point are some brave fundraisers. Sponsored by the Washington County Community College Student Senate, the annual dip drew over 100 participants and raised more than $7,000 for the Ronald McDonald House in Bangor and Sarah's House of Maine. (Robin Farrin photo)
Subscribe to Quoddy Tides
Rates:$31.65 a year in Washington County, Maine
(tax included)
$36.93 a year in Maine, but outside of Washington
(tax included)
$35.00 a year in Canadian funds
Single copies: $1.25

To read all the news in The Quoddy Tides, subscribe now or pick up the newspaper at your local newsstand.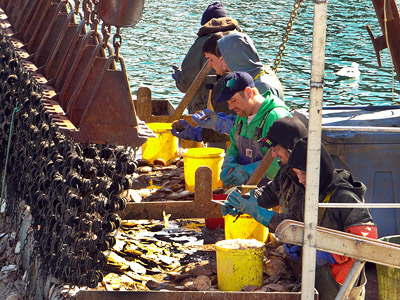 BUSY SHUCKING SCALLOPS are the crew of Dixon's 45 of Campobello Island. (Chessie Crowe Gartmayer photo)
Front Page Stories
by Edward French
Preliminary school subsidy amounts released by the Maine Department of Education indicate that some area towns will be gaining funding and others losing some monies, but not by a significant amount for most school districts. AOS 77 Superintendent Jim Underwood comments, "It's better than last year. The impact is not tremendous on most towns."
AOS 77 hires Machias school official as new superintendent
by

Edward French
The AOS 77 school board hired Kenneth Johnson of Marshfield as its new superintendent at a meeting on March 3 in Charlotte. Johnson's three-year contract is for a salary of $85,000 a year, plus health benefits. He will replace James Underwood, who is retiring.
Islander aims to expand rural broadband access
by

Lora Whelan
Building a better mousetrap is a common idea, particularly for many small businesses seeking to improve on advances in technology. Centering an entire project within its community of origin -- funding and all -- is a bit less common, but this is what Howard Small of Grand Manan is hoping to do with his Internet service, Crave Technologies. Small is currently fundraising and seeking investors to build a system to bring "city‑grade, high‑speed Internet to the rural consumer."
Tidal R&D site eyed for Cobscook Bay
by

Lora Whelan
Ocean Renewable Power Company (ORPC), along with a consortium of tidal energy‑related businesses and developers, including the European Marine Energy Center, has submitted a request for information (RFI) to the U.S. Department of Energy that could result in Cobscook Bay becoming a site for marine hydrokinetic research and development. ORPC President and CEO Christopher Sauer was on hand at the March 11 Eastport City Council meeting to share the news and update the city on the company's own developments in tidal energy research.
Robbinston voters opt to leave AOS 77
by

Lora Whelan
A total of 42 out of about 450 registered voters in Robbinston, or less than 10%, turned out on March 9 to cast their ballots on whether to have the town's school system leave or remain with AOS 77. The residents voted 29 to 13 to leave the AOS. While the vote was exclusively to remain or leave the AOS, now that the decision has been made the school committee will be working on a one‑year contract with the Calais school system's superintendent's office for services.